If the image of old man Snake naked, with his whole body painted silver, riding a nightmarish unicorn while wearing a chicken shaped hat doesn't get a solid wtf? out of you I don't know what will! It's as hilarious as it is disturbing XD But the weirdness (incredibly) doesn't end there and now that I'm almost finishing MGS: The Phantom Pain – yes, only now, don't judge, side missions and kicking every soldier's ass that I get my sights on takes a lot of time – instead of a review or something like that, I decided to post my list of weird stuff found in game.
Before anything else there's a note to be made, I know that the MGS series has had a lot of weird moments all over since the very beginning but we must admit that we're late to this party as it's the first game played by any of us.
Starting with the trademark image for Metal Gear Solid – cardboard box stealth! That box is either magic or the enemy soldiers are dumb as hell – there's a box passing by me and it seems to have feet… oh, well, it must be the wind! XD although not perfect (as I've been shot once or twice while under cover – mainly my fault) I still find it hard to believe that it works this well!
.
.
You can order you horse to poop at will – as many time as you want indefinitely! Now, that's a very obedient horse with a magic bowel system! And even better you can ambush enemy vehicles with the said poop, amazing!
.
so realistic! XD
.
If you don't shower frequently enough you'll get covered with flies and so stinky that even your own men don't want to go near you.. eventually either Ocelot throws a bucket of water over your stinky carcass or you'll get to shower with Quiet (which is not bad at all I guess XP)
.
.
The Soviet-Afghan war was way more advanced than we thought, there were mechas all over! We never heard of it because obviously it was (and still is) top secret.
.
.
.
You get to be Thor! Or the next best thing as after getting the last upgrade to your stun arm you'll be delivering lightning directly to the brains of entire garrisons with little effort – probably frying some guys along the way but that's something that nobody cares.
.
don't need a freaking hammer!
.
Portable wormholes and teleportation – Diamond Dog's R&D must have some big brains in there to come up with all of this.
.
.
The game has a nasty habit of going full Resident Evil from time to time – from being chased by a creepy floating kid and a flaming-man-shaped-beast right after you wake in the hospital, through the whole story with the vocal cord parasite (the second time at the quarantine zone at mother base…) to the puppets created by the skulls.. specially the last, those things are creepy! I had a mission to extract them from Nova Braga Airport where the whole space was empty, it was raining cats and dogs and they came at me growling from the main building..
.
.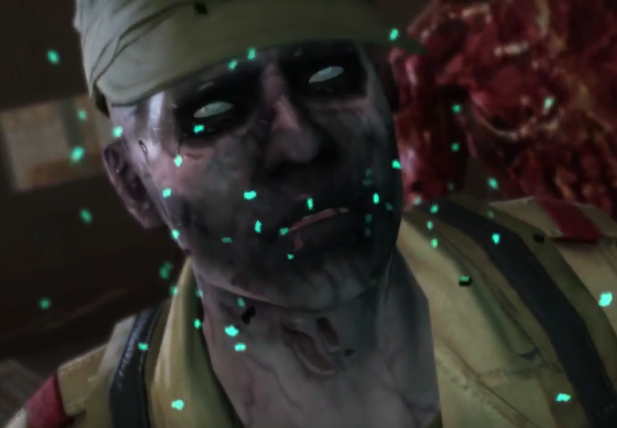 call it what you want but that's a zambeh to me!
.
I met and saved Hideo Kojima in-game. Not only did he leave his name all over the place as he put himself in there! Now he's in my R&D team (if I'm not mistaken) which would explain the wormholes and so on XP
.
did you noticed kojima made this game? no? me neither, it's impossible to tell XP
.
You can basically induce Stockhoklm's syndrome on everyone – beat them up, kidnap them and in no time they'll be jumping for the opportunity of giving their life for Big Boss. Diamond Dogs must have a very good brain washing program..
.
.
.
Kazuhira's Burgers – if managing a private mercenary army doesn't work you can always open a burger joint (backed up by high tech and research of course)
.
.
Who the hell keeps hiding rough diamonds all over my base? It's not like those are trinkets, why not keep them or turn them in for the glory of DD? Treasure hunts are fun an all but come on guys
.
Anime idol's posters on mother base – come on guys, nothing against those but at least keep them in your quarters, they don't go well with a mercenary island like fortress XP What would Skullface think if he saw that?
.
.
If you're sneaky enough you can attach c4 to soldiers butts…
.
The chicken hat – if you're terrible enough you'll get the help of the chicken hat, a piece of equipment that'll let you sneak around as is if you were invisible for some time. Not enough to keep you from trouble and alive? Then here, the little chicken hat! An improved version that'll basically make everyone ignore you no matter what you do.. but you'll get 0 punctuation in the mission you're doing, not to mention you'll look weird as heck
.
.
As long as you got the invoice for that you can mail yourself from outpost to outpost – why not use that cardbox of yours for something more than sneaking around? There are shipment areas in some outposts where you can wait for someone to pick you up and deliver you to the next point, simple as that!
.
Skullface as The Lone Ranger – hi-yo sahelanthropus away!!!
.
.
If you're really looking to scare the crap out of enemy soldiers you (after becoming demon snake – yup, I went down that path) and Quiet can ride into battle soaked in blood for that extra psychological effect.
.
.
And well, this is just a short list of weird stuff found in MGS, I'm sure I'm missing quiet a few (should have written them down as I found them) but it's enough as an example. All said and done, I love this game and how quickly it gets to the abnormal zone of the force XD Also, although a mod, I'm leaving this video here for some more wtf XD
.