Ahh, spring, that lovely time when days get warmer, hormone levels skyrocket, I turn into a walking snot factory and we get to enjoy new anime! XD So, after checking this new season's grid, here are my initial picks from which I might drop some along the way… not to mention that I still have a "few" anime from previous seasons to finish… or that I've finally started One Piece (yes, only now… on the plus side I've got 700 and something eps to see!) but at least this Spring seems more promising than last Winter's season.
.
Granblue Fantasy the Animation
.
.
.
.
"This is a world of the skies, where many islands drift in the sky. A boy named Gran and a talking winged lizard named Vyrn lived in Zinkenstill, an island which yields mysteries. One day, they come across a girl named Lyria. Lyria had escaped from the Erste Empire, a military government that is trying to rule over this world using powerful military prowess. In order to escape from the Empire, Gran and Lyria head out into the vast skies, holding the letter Gran's father left behind—which said, "I will be waiting at Estalucia, Island of Stars." – MyAnimeList
.
Shingeki no Kyojin S2
–
.
.
"Eren Jaeger swore to wipe out every last Titan, but in a battle for his life he wound up becoming the thing he hates most. With his new powers, he fights for humanity's freedom facing the monsters that threaten his home. After a bittersweet victory against the Female Titan, Eren finds no time to rest—a horde of Titans is approaching Wall Rose and the battle for humanity continues." – Anime News Network
.
Berserk S2
.
.
.
"Spurred by the flame raging in his heart, the Black Swordsman Guts continues his seemingly endless quest for revenge. Standing in his path are heinous outlaws, delusional evil spirits, and a devout child of god. Even as it chips away at his life, Guts continues to fight his enemies, who wield repulsive and inhumane power, with nary but his body and sword—his strength as a human." – Anime News Network
.
Boruto: Naruto Next Generations
.
.
.
"The life of the shinobi is beginning to change. Boruto Uzumaki, son of Seventh Hokage Naruto Uzumaki, has enrolled in the Ninja Academy to learn the ways of the ninja. Now, as a series of mysterious events unfolds, Boruto's story is about to begin!" – MyAnimeList
.
Seikai Suru Kado
.
.
.
"Kōjiro Shindō is a highly-skilled negotiator working for the Ministry of Foreign Affairs. As his plane at Haneda airport prepares to take off, a huge mysterious cube appears from the sky. 'It' expands rapidly, and absorbs the passenger plane and its 252 passengers. The cube's name is "Kado". A strange being called Yaha-kui zaShunina appears from within Kado and tries to make contact with humanity. Shindō, who was been absorbed by Kado, ends up taking on the role of mediator between Yaha-kui zaShunina and humanity. The Japanese government sends its own negotiator, Saraka Tsukai." – Anime News Network
.
Shingeki no Bahamut Virgin Soul
.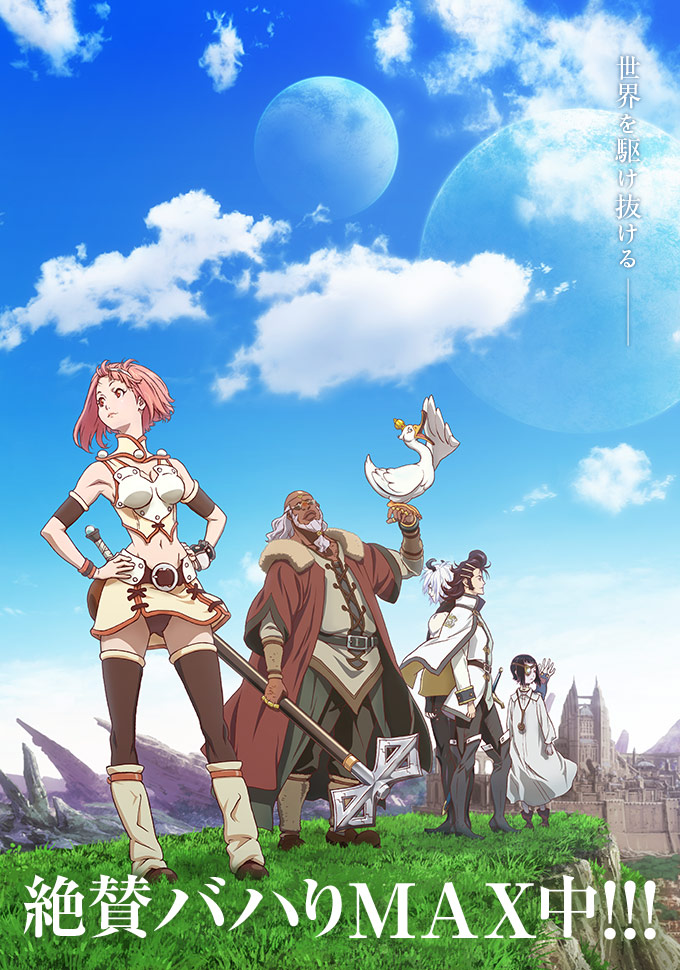 .
.
"10 years after the world escaped destruction due to the revival of Bahamut, humans at the royal capital gather wealth, the demons are enslaved to assist with the capital's revival, and the gods lose their power due to a decrease in religious piety. The world is thrown off balance as humans, gods, and demons hold their own ideas of justice." – Anime News Network
.
Zero Kara Hajimeru Mahou no Sho
.
.
.
"Year 526 of the Liturgical Calendar. The world knew that witches existed, and that they practiced the notorious art of sorcery. Nevertheless, the world did not know anything about the study of magic.
Our story follows a half-man, half-beast mercenary; humans mockingly call his kind the "fallen beasts." He always dreamt of becoming a human, but one day, he met a witch who would change his life forever.
"Do you desire a human form? Then be my escort, mercenary!"
The witch introduced herself as "Zero," and explained that she was searching for a one-of-a-kind magical tome that bandits had stolen from her lair. Entitled "The Book of Zero," the grimoire supposedly contained valuable magical knowledge that could be used to effortlessly bring the world to its knees.
Thus, in order to realize his dream of becoming a human, the mercenary must accompany Zero on her journey—despite her being one of the witches he so loathed.
This is the story of a haughty sorceress and a kindhearted beast" – MyAnimeList
.
Renai Boukun
.
.
.
"A Kiss Note is a powerful notebook that makes anyone who has their name written together will instantly fall in love if they kiss each other regardless of any circumstances. This magical and very familiar item belongs to an angel named Guri whose job as cupid is to create couples. However, she accidentally writes down Aino Seiji, a regular high school student, and unless he kisses someone, Guri will die. She convinces Seiji to go kiss his crush, Hiyama Akane, the school's popular girl who turns out has even stronger feelings for him, bordering on obsessive and psychotic. Eventually Akane and Seiji come together but not before Guri decides that she likes Seiji as well. What seems awesome to most guys becomes hell for Seiji who just wants a normal relationship with girls." – MyAnimeList
.